Product Description
¨ KDSL series low temperature screw chiller is widely adopted in manufacturing process in industries such as non-ferrous smelting, chemical and pharmaceutical, petroleum chemistry, grain and oil, food and beverage, mechanical, electric, air separation, etc.
¨ Unit main parts include Semi-hermetic screw compressor, oil separator, condenser, economizer, evaporator and control system.
Design features
¨ Coolant temperature range from 5℃ to -40℃.
High efficient semi-hermetic twin-screw compressor adopted, high COP, steady performance and long service life.
¨ Compressor stepped capacity control, minimize starting current and impact to grid.
¨ 25%-100% continuous capacity control, ensuring compressor full performance, saving running cost for customers.
¨ High accuracy touch screen and imported PLC controller adopted.
ü Multi-protection function: compressor discharge over temperature, motor over temperature, anti-freezing, over current, phase sequence, high/low pressure, flow switch.
ü Mass Storage PLC, allows permanent reservation of more than 100 fault records, precisely monitors unit running state.
ü Pass word setting, avoids unit from shut down or damaged by accidental factor.
ü Control components including thermal expansion valve, solenoid valve, check valve are supplied by international brand, ensuring steady and efficient running under wide range of working condition.
¨ Units are completely tested and operated at full load, leave factory with refrigerant, can be start once water and power is connected.
¨ Compressor with built-in exhaust pot silencer ensures low noise running.
¨ Corrosion-resistance water system upon request.
¨ Refrigerant option:R22, R407C, R404A, R134A and R410A.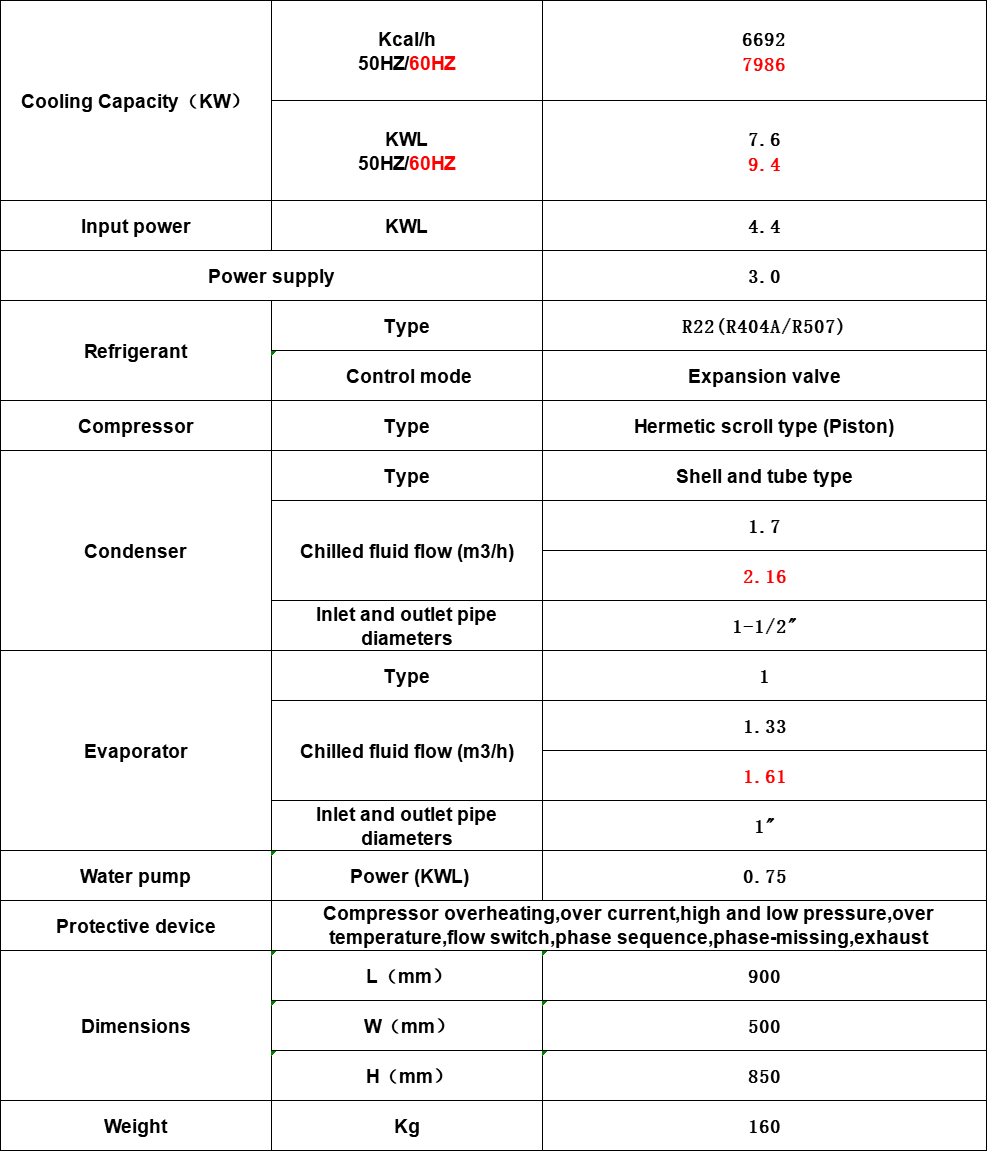 Note:
1. The capacity is based on: freezed water in and out of the water temperature- 5 ℃ / - 10 ℃; Cooling water in and out of the water temperature of 25 ℃ / 30 ℃.
2. The scope of work: frozen water solution temperature range - 10 ℃ to 10 ℃; Frozen water solution in and out water temperature 3 ℃ to 8 ℃.
Cooling water temperature range: 18 ℃ to 35 ℃; Cooling water in and out of the water temperature of 3.5 ℃ to 10 ℃.